I was lucky enough to win tickets to The Gadget Show Live at NEC Birmingham, courtesy of Kavson, a distributor of cool electronic gadgets and accessories. Thank you so much for saving me money! It was simply gadget heaven for all gadget lovers and tech enthusiasts!
The event showcased over 250 exhibitors including ADT, TomTom and Nividia. There was so much to do at the exhibition including, test driving cars which could park itself, playing with robotic toys, being scanned in 3D, experiencing VR and so much more!
The Super Theatre show was amazing to watch and was hosted by the Channel 5, The Gadget Show presenters Jason Bradbury, Ortis Deley, Amy Williams and Jon Bentley. The show was interactive allowing the audience to take part and win fabulous prizes including a 40 inch 4K TV courtsey of the headline sponsors Currys PC World. Jamie Raven, from Britain's Got Talent gave an outstanding performance performing great magic and illusions in front of my very own eyes! As Simon Cowell famously said, "I now actually believe in magic!".
SOME OF MY HIGHLIGHTS BELOW!
COOL GADGETS, WHICH I LOVED INCLUDED:
Kavson - (A special thank you for the tickets and power bank!)
It was great to meet Gerard, Director of Kavson and personally thank him! Kavson are an IT consultancy based in London, specialising in Banking, Ecommerce and Government Online Systems with over 15 years experience. Kavson also are a distributor of electronic gadgets and accessories to include powerbanks, Apple watches Bluetooth speakers & headsets and much more. Check out their innovative and stylish designs, with great prices on their online shop here.
I was gifted a Besiter Mecury Series Powerbank by Gerard, Director of Kavson. It is the world's first MFI Certified Power bank allowing you to use a single lightening cable to charge your devices to include iPhone, Android Smartphones and iPads. The Mercury Series is available in black or white which has a stylish gold trim. The premium Li-polymer ensures a quick and reliable charge for your device ensuring your device is always topped up!
It is available to purchase from only £28.99. Get yours today here!
Nine Bot
Segway, the new hype in personal transportation for a fancy commute! I am proud to say I managed to ride the Ninebot Elite Segway, without wobbling or crashing into anyone! I have to admit I was extremely nervous about stepping on, but the Ninebot team were great at teaching me how to control myself and ride with ease. I am tempted to get one myself!
Backface
Have you ever dreamed of having a wax studio in Madame Tussauds? Well thats only possible if you are rich and famous, however Backface, allows you to become close enough by creating a 3D model of yourself using 3D printing! I decided to have an attempt and see what I would look like. The results are incredible! Click here to view my scan and see a 360 degrees view of me!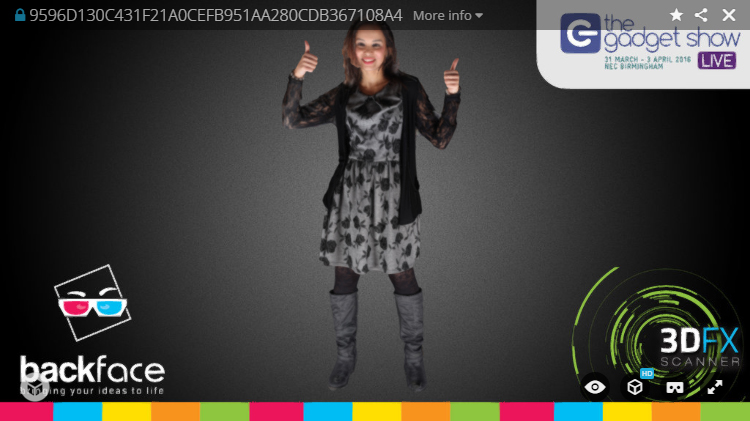 If you would like to see the journey of how to have a 3D model of yourself, checkout the blog on how Jon Bentley, the presenter of The Gadget Show got a live size 3D print! The results are astounding! See it for yourself here
Bags by Black
Bags by Black are especially designed for the stylish tech and gadget lover available in a range of colours and spectacular designs. It was also brilliant to meet the designer of the tech bags, Vivienne Black all the way from South Africa for the UK launch.
The Gadget Show Live 2016 - TRAILER
The Gadget Show Live was a great exhibition for all gadget lovers and I am already looking forward to next year!
REGISTER FOR THE NEXT EVENT
2017
THE NEC BIRMINGHAM
www.gadgetshowlive.net